Mangia
Opportunity details
Type
Franchise

Cash Required

The cash required is the amount of cash you have available or that you can access without referring to a traditional loan (family loans, stock, retirement plans, etc).

10000 €

Total Investment

The total investment is the total expected spending amount to start their business. This includes the franchise fee and other spending fees such as real estate, staffing, and supplies.

64.000-145.000 €?
Native Country
Croatia

Available Locations

The available locations for franchising are the territories or regions the franchisor is looking to develop.

Croatia, Slovenia, Italy
| | |
| --- | --- |
| Total Units (Worldwide) | 3 |
| Year Founded | 2020 |
Mangia
Salumeria MANGIA A favorite place for lovers of Italian cuisine!
Salumeria Mangia is a place of top Italian delicacies. It was opened in the center of Zagreb at the end of 2020 as an Italian delicatessen.
Behind Mangia stands a family company with many years of experience in the trade, working with food in the HORECA sector as well as family connections in Italy. After a year of successful business, we opened a second Mangia2 branch, also in the city center.
In April 2022., we opened up a third store "Mangia PANINOTEKA" where people can sit and enjoy Italian coffee, fresh and warm pastries, and Italian panini sandwiches that are freshly made in front of the customer.
The goal of the company and the brand is to maintain the high standard of quality that we have already set, and our customers have recognized, along with the promotion of Italian food culture as well as the expansion of the brand in Croatia and beyond. We pay a lot of attention to the look and feel of our stores, where we insist on the Italian "bright and positive" atmosphere.
In our stores, you can buy first-class Italian pasta, flour, focaccia Genovese, pastries, wine, spices, and various dried meat delicacies ( Mortadella Bologna IGP, San Daniele prosciutto, bresaola, roast beef...)as well as top Italian cheeses such as Burrata, Stracciatella, Parmigiano Reggiano and Grana Padano in form of 45kg.
In addition to dry pasta, we also have a wide range of "pasta ripieni", frozen filled pasta. The most popular sweet products are Italian Nutella and Pistacchio cream.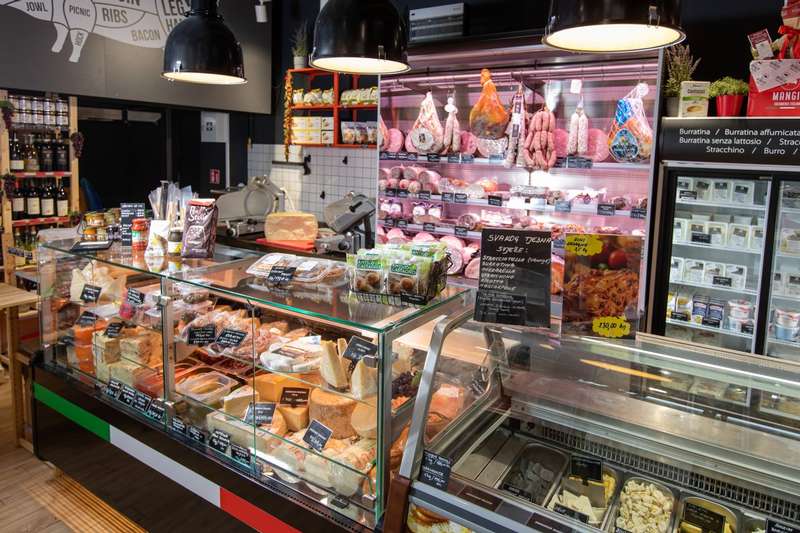 In 2021. we sold almost 4 tons of Mortadella!
The global delicacy market is constantly growing, and its value in 2021 is estimated at $305.12 billion, and by the end of 2027, its value is expected to grow to $432.24 billion.
Because of the increasingly better standard of living in general, users are choosing the food they consume. Thanks to the increasing number of boutique shops and delicatessens, the offer of quality food have become more accessible.
Food is the meaning of life, says an old Italian saying, that could not be more accurate. When we talk about gastronomy, we can easily say that Italian cuisine is one of the best in the world!